Martin has been our most frequent and hard working visitor on the farm.  When we hear his wonderful, deep, mellow voice checking if we're up for a visit, we're always happy.
Sometimes he's on his own, sometimes he comes, with their son, Declan,and when Alison is on holidays, we are very happy to have the whole MAD team together.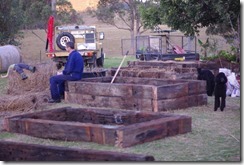 Martin is an amazing worker.  He helped Les build the raised beds from old railway bridge sleepers and in Les' words "he kept hurling 110kg sleepers at me".  This a great shot where you can see how we went from a bare patch of lawn growing nothing edible to the start of our amazing vegie garden.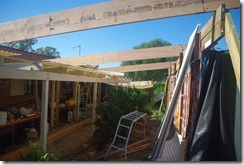 He's also been involved in the preparation of the site for the containers behind the house as well as building the roof between those containers and the house.
Martin's a great cook and brings the making for and prepares at least one fantastic meal (unless he's forbidden to do so!).  A wonderful friend and a most welcome visitor and unfailingly generous in so many ways.
Young Declan with some vegies he harvested.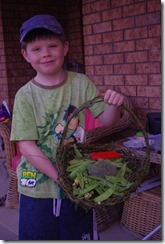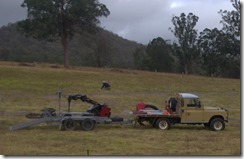 Preparing the Heritage Fruit Orchard.  We bought 107 various fruit trees from Peter the Permie.  After working out just how long it takes to dig a proper hole in this hard, unforgiving ground, we made the decision to hire an auger to dig the holes.  The figure in the background is Martin clearing out the holes after they'd been dug with the auger – a back breaking job done literally on hands and knees.  The holes were over half a metre deep and filled with the awful grey, gravel/soil impersonator that we have on this farm so we could add for add, straw, manure, mushroom compost, COF mixture to create a suitable environment for our new trees.
The latest job Martin worked with Brian Willey putting the sheets of corrugated cladding onto the reverse brick veneer walls built by Les and Keenan.  We couldn't have picked a better team for this job – it would have been "most interesting" to see this job attempted by anyone who is even slightly vertically challenged!