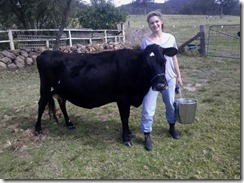 Introducing Super Lucy, a most amazing individual.
She's from Hampshire, you know, Hertford, Hereford or Hampshire, where hurricanes hardly ever happen.
She came to Australia on a working visa and needs to do her three months in the country to get a second year, 'cos she seems to like the place.
Through a series of connections, we were lucky enough to have her come here.
From milking the cow, to looking after chooks, weeding, planting, harvesting, repairing pumps and even child minding, everything has been taken in her stride.
So, next week we're going to make her a cape for the start of her superhero costume. Stay tuned for more adventures…