Occasionally, we have beef raised by our house cows, Poppy and Honey (Sweet Pea has retired from breeding and now mooches around the farm being "Aunty Sweet Pea" to the calves).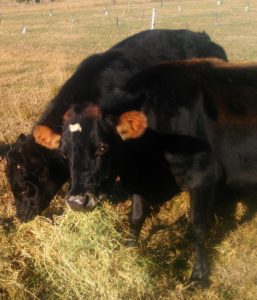 Rather than weaning these boys early, as most farmers do, we allow mum to wean them naturally, when they are nearing a year old.
The result? Tender, flavoursome beef that beats anything we've ever tasted (mind you, we've never sampled real Wagu, so it may not be the best ever, only nearly so).
At the moment (early 2022) our herd is very small – like the pigs, most of our cattle went when the drought got really bad in late 2019. We only kept the three house cows and Georgie. Due the the crazy prices of stock, we're building a breeding herd slowly – all this year's calves were heifers, so there won't be any beef available until we get boy calves.
If all goes according to plan, quarters and halves of our milk fed beef should be available again sometime in the first quarter of 2024.
We promise you, it'll be worth the wait!