We're sad to report that we no longer raise pigs on our farm. Between the drought conditions we experienced for most of 2017-2020, the abattoir we used to take them to stopping processing pigs (they got a halal chicken feed contract – no pigs allowed) and the next nearest being around a six hour journey away, the WuFlu closing down the farmers' markets and the place we stored the unsold meat wanting our pallet space in their commercial freezer back…
Suffice to say, we figured it was time to pack it in. We found a farm up near Coffs Harbour that raised pigs outdoors and had a philosophy similar to ours, so the breeders went to live there and are hopefully living long happy lives.
We'll leave the rest of this post up as it was, so you can see how we used to do it: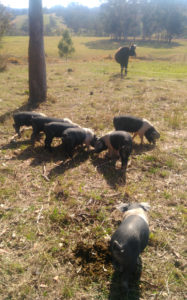 Here at The Edible Forest, we try to raise our animals in the best way possible.
Our pork comes from slow growing old breeds, which means the meat is darker, more tender and tastier than that produced in modern factory facilities with the fast growing large pink breeds that are currently fashionable.
Our pigs all live outside, with easy access to all the things they need to be happy: food, shelter, shade, water and wallows. They enjoy a wide ranging vegetarian diet without chemical supplements.
We do not use hormone or other growth promotants, nor do we use unnecessary insecticides or other chemicals around our animals.
Electric fencing allows us to contain them, but also move them around easily, which means they help us improve our land, rather than destroying it as can sometimes be the case.
When the big day comes, we transport our pigs ourselves, to ensure they are stress free to the end.
This way, we have healthy, happy pigs, which means better food and health for us and our customers.
You can buy our pork at either the Wingham Farmers' Market, at the Forster Farmers' Market or at our regular Tuesday morning market outside Bent on Food in Isabella St, Wingham
| | | |
| --- | --- | --- |
| Cuts | price | per |
| American Ribs | $18 | kg |
| Bacon | $26 | kg |
| Belly | $25 | kg |
| Boned Rolled Ham | $28 | kg |
| Boned Shoulder Roast | $24 | kg |
| Boneless Loin | $30 | kg |
| Christmas Ham | $26 | Kg |
| Cutlets | $24 | kg |
| Diced Pork | $18 | kg |
| Fillet | $30 | kg |
| Forequarter Chops | $22 | kg |
| Hand Roast | $20 | kg |
| Loin Chops | $22 | kg |
| Mince | $20 | kg |
| Sausages | $19 | kg |
| Spare Ribs | $22 | kg |
| Speck | $26 | kg |
| Stir Fry Strip | $18 | kg |