We've been so lucky with our WWOOFers, so far we've had two and both have been amazing.  I thought that Colin was so good that anyone else who came here wouldn't work so well.  I was wrong.  Along came Tobi, totally different but oh, what a worker and a joy to have around.
Tobi is 19 and taking a gap year while he works out what career he'd like.  He thought he'd become a doctor like his Dad but then started thinking about doing something to help the planet.  He arrived a couple of weeks ago and has done masses of very hard clearing with Les on our neighbours' property, mending fences so our cattle can be agisted next door.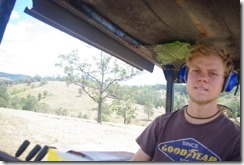 driving the tractor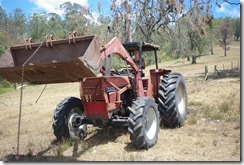 removing old steelies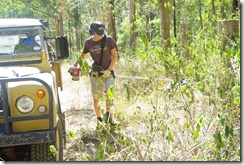 Clearing lantana with brush cutter
He also enjoys a beer so helped Les make the next batch of beer.  His first go at beer making, hopefully not his last!  He also helped bottle our first batch of apple cider, made with Pink Lady Apples given to us by our friends, The Grindrods.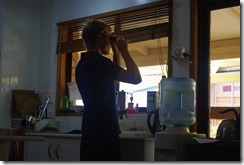 Testing for the sugar levels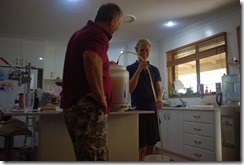 Siphoning out the apple cider from the barrel, ready to bottle.  Using fresh apples, produced masses of appley, yeasty sludge which settled below the tap so needed to be siphoned.