On Monday this week, while we were breakfasting with Pete, Silvia, Rob and Zuzana (who'd stayed with us for the heritage fruit weekend), Annette got a phone call from Jools:
"Are you still looking for a house cow?"
"Ummmm…."
"Jenny has a black Jersey that's just calved, it will be lovely"
Well, these opportunities don't come up that often, so today a further piece of the smallholding puzzle arrived:
Her name is Sweetpea and we've named the little fella Paprikash (it will never do for us to lose sight of his ultimate destination).
The next step is, of course, to try and extract some milk from the girl. She was very kind and let me catch her, which is a good first step…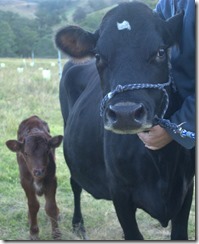 Next, try and figure out where the cow juice is and persuade it into the bucket: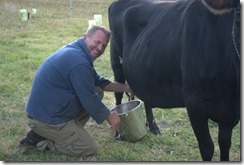 Given the amount of milk in the bucket vs the amount on the ground, the cow's hoofs and my crotch, I can see why Cleo's label this stuff as "bathing milk"
Finally, one hot chocolate and one anijsmelk, made using milk from our own cow: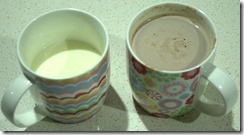 Who'da thunk it?
Now all we need to do is redesign the house paddock and surrounding orchards to take Sweetpea's needs into account. Luckily we haven't started planting orchards yet, so only minor mods to the design will be needed.